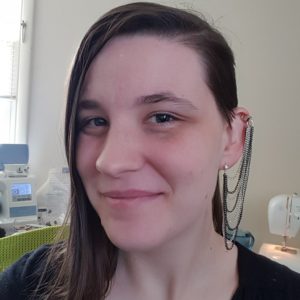 My name is Amanda, and I've been sewing for over 20 years, and making plushies since 2011!
The first sewing project I remember was helping my mom make Halloween costumes when I was 8 (I was a unicorn!). I grew up playing around on my mom and grandma's sewing machines, but didn't start "creating" on my own until I moved out and went to college. The first plush I ever made was a baby troll from Homestuck. The next few were also based on Homestuck characters- including the first plushie I made from a pattern I drafted myself. Next came My Little Pony, and then Flightrising, Steven Universe, some custom designs and fursonas… and it all snowballed from there!
When I first started sewing, I used a small $90 Singer sewing machine with a straight stitch, zigzag, and not much else. Next, I added a Brother PE 770 embroidery machine to my collection. Over time, my collection of machines has grown, and I've been able to justify getting myself fancier and more high-tech babies to play with. My current set up is a Husqvarna Viking Brilliance 80 for sewing and embroidery, a Brother 1034D Serger, a Husqvarna Viking Emerald 118 (for when my Brilliance is busy with embroidery, and I have an urgent need to stitch something together!) and a Cricut Maker for cutting pieces out. For creating patterns, I use Paint Tool Sai 2, Inkscape, and Microsoft Publisher (and a LOT of scrap paper!). For embroidery, I draw the designs in Sai and digitize them using Wilcom Hatch 2.